International | ICAB International Department
¡INSCRIPCIONES ABIERTAS! Legal Link a Dubai del 8 al 12 de noviembre de 2021
El Departamento Internacional del ICAB ha organizado una Misión Jurídica a Dubai, con la colaboración del Consulado General de los Emiratos Árabes en Barcelona, ​​con motivo de la celebración de la Exposición Universal.
El objetivo de esta iniciativa es la proyección internacional de los colegiados y colegiadas y de sus despachos. Plazas limitadas. Para más información e inscripciones: internacional@icab.cat
El programa de la visita, del 8 al 12 de noviembre de 2021, incluye las siguientes actividades:
Visita al DIFC, International Financial Center
DMCC, Free Zone and Global Trade
FDI Department of Economic Development, Government of Dubai
Visita a despachos de Abogados, excelente oportunidad para establecer contactos profesionales con la abogacía local
International Arbitration Center Dubai (DIAC)
Sesión de networking Spanish Business Council
Traslado day out a Abu Dabi (Embajada Española, Cámara de Comercio)
Visita a la EXPO de Dubai
Sin duda, esta misión será una magnífica ocasión para crear oportunidades de negocio de nuestros colegiados y colegiadas con los Emiratos Árabes Unidos (EAU).
El miércoles 6 de octubre de 2021 tuvo lugar una sesión informativa virtual (por ZOOM) para obtener más información sobre el próximo Legal Link a Dubai.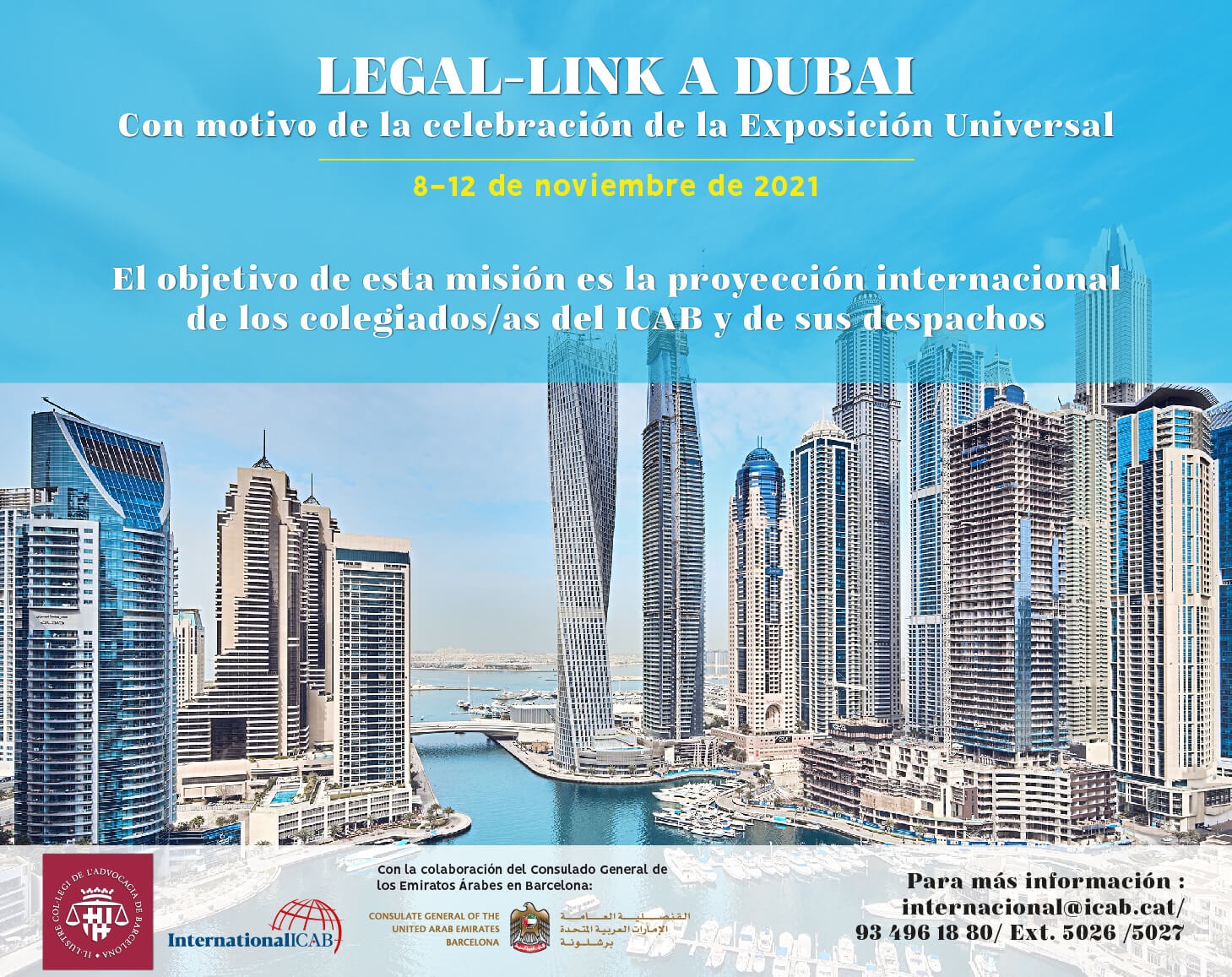 Contact
Internacional

93 601 12 12

- EXT.

5329
Fax: 93 487 94 18
Lunes a jueves: 9h a 18h / Viernes: 9h a 15h