International | ICAB International Department | ICAB Training
Materials from the ERA-ICAB seminar "Applying the EU Charter 11-12 February 2021" are now available
On 11th and 12th February 2021, the Academy of European Law (ERA) implemented, with the cooperation of the Barcelona Bar Association (ICAB), the course "THE EUROPEAN UNION CHARTER OF FUNDAMENTAL RIGHTS - FOCUS ON ARTICLE 47" for those who wanted to acquire a solid knowledge of the scope and interpretation of the Charter of Fundamental Rights of the European Union and its practical implementation in national legal orders, in particular with regard to the law to a fair trial.
During the course, the following topics were discussed:
How fundamental rights are protected in Europe
The legal value of the EU Charter
How to implement and interpret the EU Charter at national level
On the scope of Article 47 of the EU Charter in practice and possible restrictions, as well as its relationship with Article 6 of the ECHR
How to effectively exercise the rights of the defense under EU law
How to use resources in EU law
How to safeguard the rights of victims in criminal proceedings
This seminar represents a great opportunity for EU legal professionals interested in the subject to improve and update their knowledge of the EU Charter, discussing with experts from all over Europe the most relevant practical issues and the latest developments in the field. rural area.
ICAB members can access the seminar materials and the individual presentations with translation. You can find them as attachments (at the bottom of the page).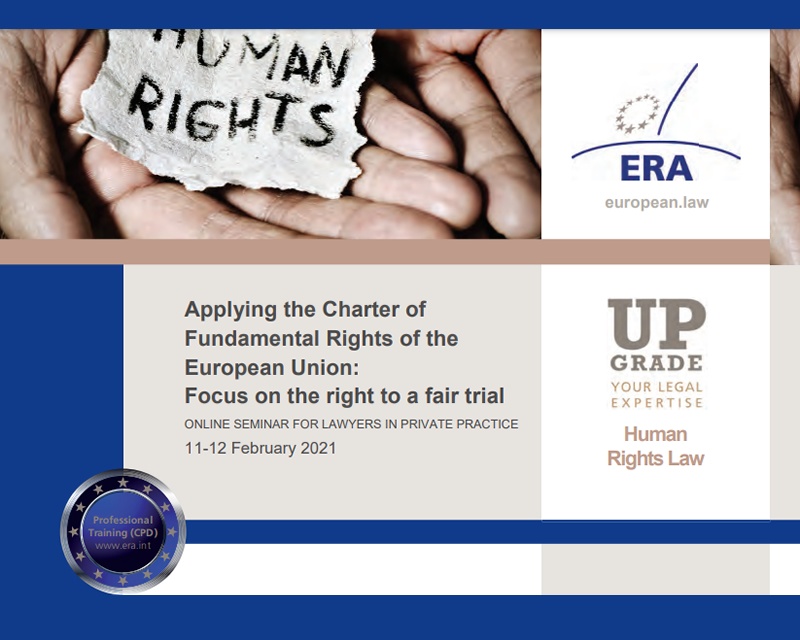 Contact
Internacional

93 496 19 21 / 93 496 18 80
Lunes a jueves: 9h a 18h / Viernes: 9h a 15h