Foreings Commission | International Criminal Justice Commission | International Relations Commission | Young Advocacy Group (GAJ Barcelona) | Communication (Press, Web and 'Món Jurídic') | Office Shift and Assistance to the Detained Person - City of Justice | Press releases
Project of the Barcelona Bar Association "Ukrainian Population Assistance"
On Thursday February 24, 2022, the Council of the Barcelona Bar Association made public its condemnation of Russia's unilateral declaration of war and invasion of Ukraine.
Such a declaration of war constitutes a violation of Article 5.1 d) of the Rome Statute, and therefore, an aggression against the international community.
The legal profession, as the guarantor of human rights, must provide legal assistance and defence to displaced Ukrainian citizens.
For this reason, the Council of the ICAB, through its Legal Aid, Immigration, International Relations, International Criminal and Human Rights Committees and the Young Lawyers' Group, is launching the "UKRAINIAN POPULATION ASSISTANCE" Project.
THE ACTIONS TO BE CARRIED OUT THROUGH THIS PROJECT ARE:
1st Free legal assistance and advice for displaced persons from Ukraine to the city of Barcelona or to any of the Delegations of the ICAB.
2nd Collaboration and follow-up in the referral of the displaced Ukrainian population to the Social Services of Public Organisations and NGOs.
3rd Production and dissemination of a "Basic Emergency Guide for Assistance to Displaced Persons".
4th Legal dissemination among the Ukrainian community, NGOs and organisations dedicated to assisting the displaced population of Ukraine, making known the international norms of international protection, humanitarian law and International Criminal Justice, so that the victims can claim their rights.
5th Follow-up of the actions derived from the "UKRAINIAN POPULATION ASSISTANCE" Project and the effectiveness of the actions proposed, both in terms of international protection, as well as legal assistance and the elements of international justice.
In order to be able to deal with all requests, we have created this e-mail address icab.ucrania@icab.cat
Barcelona, February 27, 2022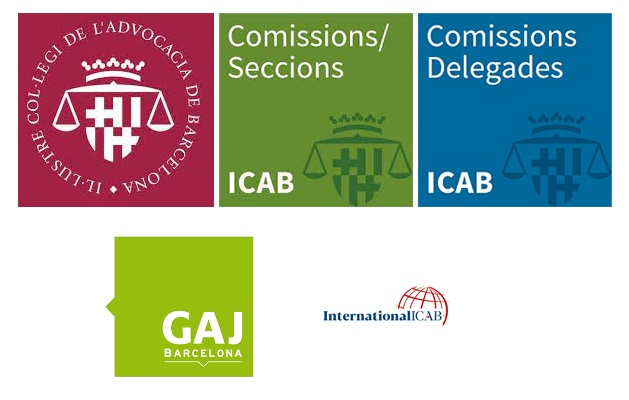 Contact
Comunicación (Prensa, Web y 'Món Jurídic')

93 496 18 85 / 93 496 18 80

Turno de Oficio y Asistencia a la Persona Detenida - Ciudad de la Justicia

ASISTENCIA: 902123365 / 932974399 / 936011203
TURNO DE OFICIO: 934871350
ÁREA JURÍDICA: 934329015