Culture / Training Commission | ICAB International Department | Institutions
Cápsulas formativas en Derecho Internacional en abierto
El Colegio de la Abogacía de Barcelona (ICAB) ofrece en abierto cápsulas formativas sobre diferentes contenidos jurídicos de actualidad. Entre otros, se ofrecen cápsulas del ámbito del derecho internacional. Esta iniciativa responde a la voluntad de continuar ofreciendo formación y servicios pese a la situación provocada por el COVID-19.
Desde la página web del ICAB se ofrece el acceso a los vídeos en los ámbitos de compliance, derecho civil, derecho concursal, derecho de consumo, derecho de familia, derecho de la infancia y la adolescencia, derecho fiscal, derecho laboral, derecho mercantil, derecho penal, derecho procesal, derecho sanitario, bienestar, internacional, mujeres abogadas, responsabilidad civil y seguros y segunda oportunidad, que se irán ampliando en los próximos días.
>> Accede a las cápsulas video formativas en el web y en Vimeo.
El listado de cápsulas en Derecho Internacional que están disponibles actualmente es el siguiente:
Cápsula Internacional: "Maternidad subrogada y emergencia Covid-19" , por Fiammetta Capecchi, Member of the Comissioni Rapporti Internazionali.
"Labour law measures adopted in the UK during the COVID-19 pandemic", por Philip Henson, employment Lawyer and Chair of the Law Reform Committee of the Westminster and Holborn Law Society.
"French Government's emergency measures - Contract Law", por Nathalie Cazeau, Director of the Franco-Spanish Commission of the Paris Bar.
"Situación actual del Derecho de Familia en Inglaterra y Gales", por Carolina Marín Pedreño, Presidenta de Westminster and Holborn Law Society. Miembro de la Academia Internacional de Abogados de Familia.
"Obligaciones contractuales y responsabilidad, con atención a los contratos de alquiler y préstamo", por Niccolò Lasorsa Borgomaneri, miembro de la Comissione Rapporti Internazionali de l'Ordine degli Avvocati di Milano.
"COVID-19 in Germany - The most relevant legal answers", por Anthony Trentin, socio en la oficina de Frankfurt de BEITEN BURKHARDT y miembro del grupo de Banca/Finanzas y Mercados de Capital.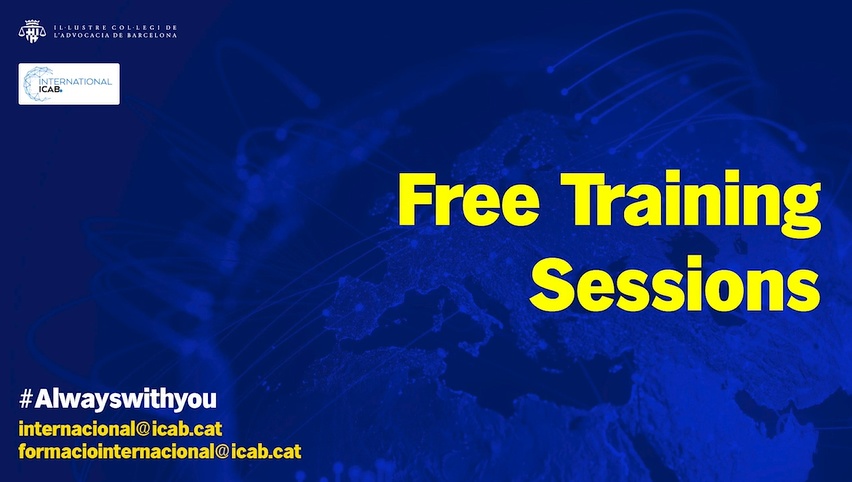 Contact
American Bar Association (ABA)

1 312 988 51 07
Fax: 1 312 988 61 78

Asociación Hispano-alemana de Juristas

93 319 01 85
Fax: 93 319 01 85

Asociation Internationale du Droit du Sport (IASL)

30 197 608 35
Fax: 30 197 02149

Association Européenne des Avocats (AEA)

32 2 538 13 78
Fax: 32 2 543 02 00

Council of Bars and Law Societies of Europe (CCBE)

Rue des Trèves, 45
1000 Bruselas, (Belgium)
32 2 234 65 10

European Young Bar Association (EYBA)

33 1 43 57 06 27
Fax: 33 1 43 57 06 27

Federación Interamericana de Abogados (FIA)

1 202 393 12 17
Fax: 1 202 393 12 41

Formación ICAB - Comisión de Cultura

93 601 12 80 / 93 496 18 80
Fax: 93 215 04 29

Fundación Privada Sant Raimon de Penyafort

Movimiento Internacional de Juristas Católicos (MIJC)

93 215 40 12
Fax: 93 215 62 44

Mutualidad de la Abogacía

902 25 50 50
93 601 12 12

- EXT.

5335
Fax: 91 431 99 15

Union des Avocats Européens (UAE)

0030 1 611 5113
Fax: 0030 1 611 7235

Unión Iberoamericana de Colegios y Agrupaciones de Abogados (UIBA)

91 431 55 53
Fax: 91 576 04 17